Interior design is an art, and like other forms of expression, styles change over time. As tastes evolve and new techniques come available, fresh flooring trends emerge — and sometimes, old styles resurface. Our flooring company shares everything you want to know about 2021 flooring material and design trends.
WHAT IS THE NEXT TREND IN FLOORING?
When it comes to the overall look of a home, floors hold a lot of weight. Vibrant hues and prints can make a statement, while neutral tones can complement accent pieces and tie a room together.
In the coming year, you can expect to see wood-like vinyl, textured tile, matte finishes, diagonal planks, classic black and white, and eco-friendly materials taking center stage. Here's what you need to know about these flooring trends.
WOOD-LIKE VINYL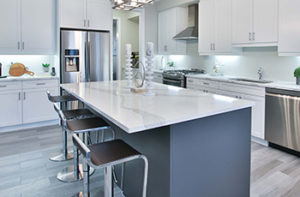 Hardwoods still reign as the number-one flooring choice. However, luxury vinyl has become a close second in recent years, partly because it can be made to look almost exactly like the real thing. Luxury vinyl plank (LVP) floors can mimic the appearance and texture of oak, fir, mahogany, cherry, and virtually any other wood grain.
TEXTURED TILE
Thanks to advancements in technology, textured tile flooring is gaining traction — pun intended — in the home improvement industry. It can be made a few different ways to produce a variety of styles.
For instance, ceramic can be pressed into a mold to give it a texture similar to wood or natural stone. Stone can be run under bristled wheels to achieve a brushed finish. Multi-fired tile is fired in a kiln three or more times, resulting in a 3D texture. Since textured floors offer slip-resistance, they're a great choice for bathrooms.
MATTE FINISHES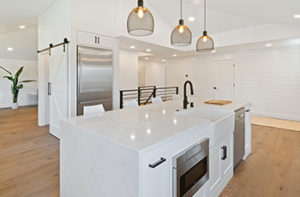 Whether it's traditional wood planks, porcelain tile, or natural stone, matte floors are in for 2021. Flat finishes are low-maintenance compared to glossier options, which are more prone to scratches. Also, dirt and dust tend to show up more on high-shine floors. Similar to textured tile, matte floors are less slippery than their shiny counterparts.
DIAGONAL PLANKS
Flooring is usually installed vertically or horizontally, in line with the walls of a room. However, if you want to make a statement, you might consider installing planks diagonally. For a subtle, elegant appearance, place all planks in the same direction but at an angle. You can also create a herringbone or chevron pattern for a more striking aesthetic.
CLASSIC BLACK AND WHITE
Black and white patterns may never go out of fashion, and they'll likely always have a place in the world of interior design. With that said, classic black and white flooring will be a popular choice in 2021. Checkered tiles are super versatile and pleasantly nostalgic, but it's not your only option. Printed mosaic tiles can be beautifully chic without looking too busy. Hexagon tiles also look stunning in black and white.
GREEN FLOORING MATERIALS
When we say green flooring is in for 2021, we're not talking about olive and chartreuse. As more and more people are adopting environmentally conscious lifestyles, eco-friendly floors are having a moment. This includes renewable materials, like cork and bamboo, as well as recyclable flooring products, like laminate. Linoleum is another green option, as it's biodegradable and doesn't emit VOCs (volatile organic compounds) into the atmosphere.
Need Help Installing Floors in Your Home? Ask the Experts at Factory Flooring

What type of underlayment should you use? How many inches thick? How do you install it? And how do you avoid damaging your floors in the process? 
When you work with Factory Flooring, you don't have to worry about these questions. Our team of professional flooring installers will handle all the heavy lifting for you — literally. All you have to do is relax and enjoy the savings on your energy bill. 
Need to get more flooring ideas first? Our design blog has dozens of articles to help you get started. Whenever you're ready to tackle your insulation project, we'll be here to help. Contact us online to get started, or call Factory Flooring at 469-583-7053 
Jan 06, 2021

Category:

News
Comments: 0